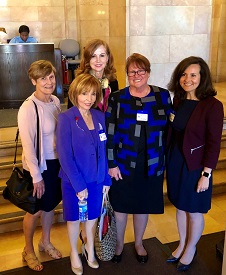 Find Your Representative
New Jersey's healthcare community is a vital part of our state, delivering not only essential healthcare services to all but also fueling the state's economy with jobs, spending and salaries. The healthcare community can play an important role in shaping healthcare policy that affects our facilities, our co-workers and the people we care for.
Federal and state legislators value the opinions and suggestions of their constituents. You may call, write or e-mail members of the U.S. Congress and N.J. legislators at their legislative offices. The links below can help you search for your local representatives by municipality or zip code.
Best Way to Communicate
The best time to communicate effectively with your representative is during key decision points in the legislative process. A good time to write about a bill is while it is still in committee, or shortly before a vote is scheduled on a bill.
The urgency for action, importance of the issue or strength of opinion can determine whether to call, fax, mail a letter or e-mail the official. The most important thing is to share your views on important healthcare issues, through whatever means of communications.
Legislators pay a great deal of attention to individualized letters versus form letters. Here are a few general tips to communicate your message effectively:
Keep it simple. Discuss how the issue directly affects your healthcare facility and community. Don't focus on the details of a bill or regulation. Try to keep your comments to no more than three key points.
Stay on point. Focus your message on the three key points and reinforce them at the end of your discussion.
Use specifics and anecdotes. A compelling story will help a legislator relate to and remember your issue. Use specific examples to help explain and highlight your issues.
Ask for something specific. After you highlight your three key points, ask for what you want. Be clear about what you are asking for – support for the bill, rejection of the bill, co-sponsorship, amendments, etc.
Follow up. If you have had the opportunity to meet or speak with a legislator be sure to send them a thank you note. This gives you the opportunity to summarize the main discussion points of your meeting and gently remind the legislator of your request.
How to Address a Letter to Your Representative
When Writing a Member of Congress
Hon.____________________
(use office address)
Dear Senator/Congressman/Congresswoman:
When Writing a Member of the New Jersey Legislature or the Governor
Hon.________________________
(use office address)
Dear Governor/Senator/Assemblyman/Assemblywoman:
Telephoning Your Elected Officials
The same rules apply when telephoning an elected official. Be prepared with a bill number or the common name of the bill that you are calling about. Be prepared to talk to a staff member if the elected official is not available, but ask that your position be shared with the elected official. Discuss your support or opposition and explain how it will impact your facility, its employees and the people you care for.